Date/Time
Date(s) - 07/02/2018
7:00 pm - 9:30 pm
Location
Auditorium BCG
Category(ies) No Categories
Il  7 Febbraio alle ore 19 va di scena a Milano il debutto del chapter milanese di #DataBeers. La venue sarà l'Auditorium di The Boston Consulting Group, al 6° piano di Via Ugo Foscolo 1, accanto al Duomo.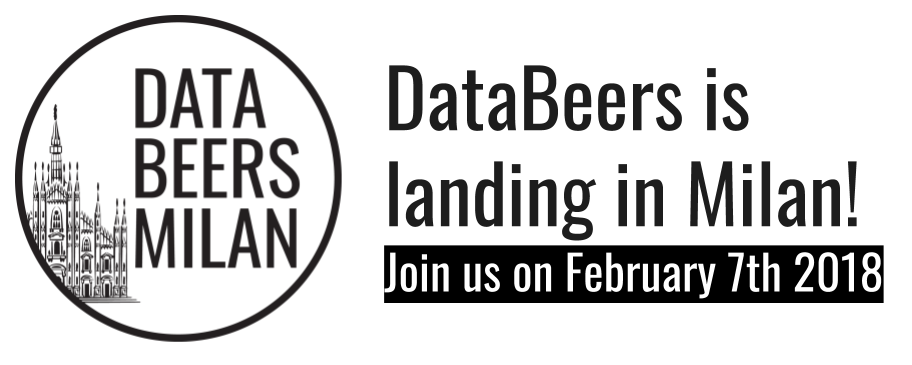 Porteremo sul palco 5 storie di dati che possano mostrare metodologie, tecniche o strumenti per impiegare i dati in modo utile in vari ambiti: sociale, economico, scientifico, artistico… o per semplice divertimento
Il linguaggio impiegato sarà semplice e la serata sarà accompagnata con la birra offerta dallo sposor della serata.
Vuoi raccontare il tuo use case al 1° Databeers – Milan? Contattaci subito, ci divertiremo! Linee guida per la presentazione: 8 minuti talk + 4 minuti Q&A, no formule, no linee di codice, use case non troppo markettaro, evitare uso di buzzword vuote o concetti over-abused.
Il programma della serata prevede
ore 18:30 Apertura check-in (piano terra) e assegnazione dei posti in auditorium (6° piano)
ore 19:00 Saluti iniziali e presentazione del movimento DataBeers
ore 19:15 Presentazione delle Data Story
Alessandro Vitale: Training di ChatBot per favorire i processi di integrazione aziendali.
Massimo W. Rivolta: Data Analysis per la previsione delle cadute degli anziani.
Giulio Mazzeo: Big Data e Cloud: un'applicazione reale per il settore bancario.
Alessandro La Torraca. The Dark side of Adv: Come usare la pubblicità online per conoscere meglio clienti e non.
Filippo Bianchi: Markdown Optimization in fashion.
ore 20:30 Networking
ore 21:30 Saluti
Mentre finiamo di configurare i nostri account twitter, tumblr, meetup e il gruppo facebook, puoi già iniziare a seguirci.
Se vuoi partecipare al Primo Databeers Milan iscriviti subito, le registrazioni sono già aperte: